ANNOUNCEMENTS
Chapter 32, May 26, 2017 Meeting
2017 Jan Feb March April May June July Aug Sept Oct Nov Dec
President
Mike O'Kane P P P P P P
VP
Paul Feddern P P P A P P
2nd VP
Mike Daughtry P P P P A P
Interim Treasurer
Director
Al Ranni P P P P P A
Secretary
Tom Fitzgerald P P P P P P
Director
Raymond Ohrablo P P P P P P
Director
Ken Trautman A P P P P A
Director
Doug Williams P P P P P P
Director
Manfred Edenhofer P P A P P P
Director
Don Fedynak P P P P P P
Director
Tom Bullaro
P P P P P P

Director
Ed Cavaliero P P A P P P





P-present A-absent
The BOD meeting
Began 6:30PM

1) The picnic at St. Albans, if it happens, will be scheduled for Aug 27. Since the Dom will be moving to Brooklyn it will be the last picnic.
2) The city council is providing funding but less than last year.
3) The memorial was discussed. Melinda Katz is very supportive of the memorial.
4) The convention was discussed.
5) The new book "the ballad of the Green berets "was mentioned.
6) The speakers and other topics which will be brought up at the general meeting were discussed.
7) A donation from Maspeth Federal Savings was mentioned.
BOD meeting ended at 6:45

The General Meeting started at 7:30 PM
1) Pledge, Moment of Silence and Members in Distress and prayer.
2) The council funding was mentioned.
3) The meeting about the Vietnam Memorial at Elmhurst Park was discussed.
4) The picnic at St. Albans and the moving of the Dom was brought up.
5) The convention was discussed. President O'Kane mentioned his surgery and the possible need for an alternate. Rubens Galchin offered to stand in for Mike O'Kane.
6) The new book "The ballad of the Green berets" was mentioned.
7) Mike O'Kane turned the meeting over to Paul Feddern.
8) Robert Boisselle brought in a family of a WWII veteran whose memorial Burial flag was stolen. The Chapter presented the family with a replacement Flag and honored the veteran. A member of the family spoke about their relative and thanked the Chapter.
9) Mister Johnson from the VA spoke about the Hep C benefits provided by the VA. Doug Williams brought up the possibility of scheduling a meeting of the Chapter and the VA van that checks for Hep C.
10) The next meeting will be at the Dom on July 28, 2017.
11) A speaker from the New York historical society spoke to the Chapter about the society doing retrospective about the Vietnam War.
12) Paul Feddern brought up forms for New York motor vehicle which provide fee exemption for Veterans with disabilities.
13) John Rowan spoke about various government programs and various Senate committee sessions about veteran affairs.
Next chapter meeting Friday Aug. 25. BOD
6:30 GM 7:30 Will be discussing annual
picnic/BBQ at St.Albans on Sunday Aug.27
and Veterans Day parade in NYC.
Unveiling of the Queens Vietnam Memorial Plans.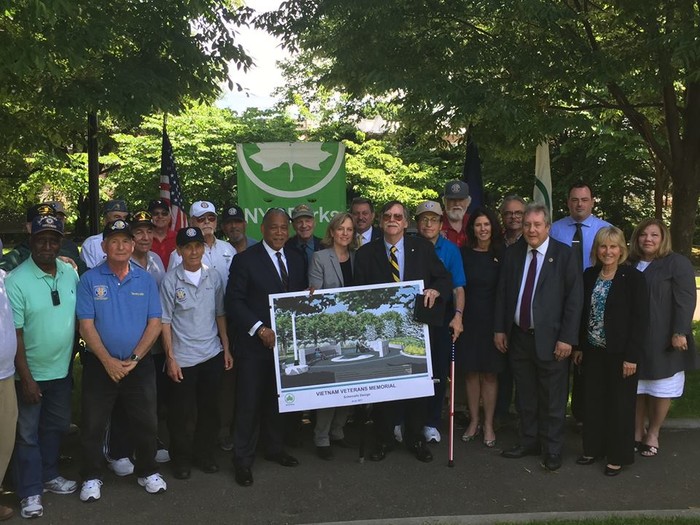 ---

Military Exchange Shopping (What we used to call the PX)

Here ya go guys, this could be a nice little benefit, should be able to save some money.

The Army, Air Force and Navy exchange will start allowing all honorably discharged veterans to shop online, (think Amazon, but only cheaper with no taxes.) The target start date is Veterans Day, November 11, 2017 but , you must register first. Registration begins June 1, 2017 . You must call 1-844-868-8672 after June 1 to register.

SEND THIS TO ALL OF YOUR VETERAN FRIENDS AND RELATIVES

Here is the site with more information:
2017 Street Fair Schedule
Vietnam Vets
Sun April 23 Steinway St.34-28 St. Astoria
Sun June 4 Queens Pridefest 37 Rd.&75 St. Jack.Hts.
Sun July 30 30 Ave. Steinway/29 St. Astoria
Sun Aug. 6 Junction Blvd. & 35 Ave.
Sat Aug. 19 Greenpoint Ave.& Queens Blvd. Sunnyside
Mon Sept. 4 30 Ave. 29-41 St. Astoria
Sun Sept.17 Myrtle Ave.& Forest Ave. Ridgewood
Sun Oct. 1 Bdwy. Steinway/Crescent St. Astoria
Sun Oct. 8 Grand Ave.& 69 St. Maspeth
Sun Oct.15 Jamaica Ave. & 80 St. Woodhaven
Sat Oct.21 Greenpoint Ave. & Queens Blvd. LIC
Revised 5/13/17
#################################################
When visiting website,take a look at the upcoming birthdays on right side and drop a line to the birthday boys/girls.
~~~~~~~~~~~~~~~~~~~~~~~~~~~~~~~~~~~~~~~~
Chapter hats available for purchase at next meeting.
New color. $10.00
-----------------------------------------------
Chapter hats,shirts and jackets are available at Artistic Stitch located at 79-08 Cooper Ave, Glendale, NY 11385.
They have all designs and colors so you can customize your shirt or jacket.
++++++++++++++++++++++++++++++++++++++++++++++++++++++++++
Still time to apply for your medal. Follow the below link. A great ceremony.
The Long Island Air Force Association-LIAFA is awarding a 50th Vietnam Anniversary Commemorative Medal to eligible veterans. You may apply on line and submit your DD 214 for proof of service. Please go to their website,click veterans and follow instructions. The sooner you do this,the sooner you will be eligible for the medal.
Go to http://www.liafa.org
Making

Queens

'

Vietnam

vets proud
Somewhere, Pat Toro must be smiling.
The late president of the Vietnam Veterans of America Chapter 32 fought hard for Queens to have its own memorial to the 420 local residents who served and died in the decade-long Vietnam War.
Toro, who died of leukemia in 2014, resided in Forest Hills, was a retired investigator for the Port Authority and served with the Marines in Vietnam. He worked hard to honor his fellow Vietnam veterans in some way, including bringing the "Moving Wall" — a traveling replica of the Vietnam Veterans Memorial in Washington, D.C. — to Middle Village's Juniper Valley Park in 2012.
But Toro wanted a permanent monument so future generations in Queens would recognize the service of the borough's Vietnam vets. He wouldn't live to finally hear the good news from Borough President Melinda Katz on May 26 that the memorial would finally be built at Elmhurst Park.
Katz secured the final $1.5 million required for the Parks Department to move forward with the memorial's design and creation. It will take some time before it's all complete, but the hardest part — securing both the political and financial capital — has been accomplished.
There are those who will lament how long it took to get this memorial project moving. Toro and his fellow vets began advocating for it nearly a decade ago during the planning stages of Elmhurst Park, which was built on the site of the former Elmhurst Gas Tanks.
It's a shame that it took so long, but the only thing more tragic for this cause would have been for the memorial to have never happened at all.
When they came home from the war more than 40 years ago, Vietnam vets were welcomed back with insults and disdain. They were not thanked for their service, as today's veterans are thanked. Building a memorial won't take back all the insults and misplaced anger hurled at those who served in Vietnam, but it will serve as a long-deserved token of gratitude for those vets, both living and deceased, who served us with honor.
We applaud Katz for coming through with the funds to complete this noble task. We await the day when the memorial is completed and dedicated.
We also applaud the tireless efforts of the Vietnam Veterans of America Chapter 32 for keeping Toro's dream alive and advocating for the Queens memorial to their fallen comrades.
Finally, we thank them for their service to our nation.
Free,Free,Free Membership
In an effort to increase membership,the chapter is offering a FREE one year membership to all eligible veterans. Everyone knows a Vietnam Veteran. Invite them to join the VVA and our chapter. For every member you sign up you get 3 free tickets in the 50/50 drawing.
---------------------------------------------------------------------------
Google the following for information on filing claims and increases
jimstrickland912 There are a number of pages to help.
The software
lease click on the link below to read the latest on Agent Orange
and C-123's.This is good news
SMILE
The VA has you covered with the new
VA Dental Insurance Program (VADIP)
The VA Dental Insurance Program(VADIP) offers
dental insurance at a special low rate for Vererans.
Choose from plans offered by Delta Dental and MetLife.
To learn more click on one of the following links:
http://www.va.gov/healthbenefits/VADIP
http://www.deltadentalvadip.org